November 4, 2017
Things I miss from the indie days of 2005
I swear at the moment music seems to be a resurgence of 2005.
The Killers are back along with Arcade Fire, Editors, Kasabian and I feel like I need to bust out my band t-shirts and skinny jeans again.
Hey, where's my tote bag at ?
During 2005, I physically remember Indie music literally being everything. I'd wear my band badges to school, hide copies of NME under the table and I would get so excited about the magazine's bumper Christmas edition (we used to ace the quiz).
The truth is, I have really missed bands such as Arcade Fire and Editors because when they were good, they were really good.
So here's a list of things I really miss from 2005's indie days.
Music quizzes on your ipod
30 seconds to guess the into to the songs on your ipod. Anything to pass the time during tutorials. Switching friends' ipods to test yourself was another great activity. Also maximum capacity – 4GB and that was a lot back then.
Rowdy gigs with pints flying everywhere
Gone are the days where you'd queue to be at the front, get pushed against the barrier throughout the gig before then being drenched by flying beer. I kind of miss the euphoria of knowing you'd been to a good gig by the amount of bruises were on your ribs and the amount of beer in your hair.
NME Magazine's Christmas edition
The bumper quiz was the highlight of my December.
Fringes (bangs) on everyone. Big ones too. 
I would bring out an old picture of me having a fringe but no. It's for the best. I also burnt my forehead once straightening it so that it was positioned right across my forehead. Thanks 2005.
Queuing for Harry Potter
Give me the book. Now i'm going to ignore the world for the next 3 days.
Myspace and talking to people in bands on there
I used to chat to some of the indie bands of the day on MySpace. And then probably wrote a status about it after. I think mine was killers related but some twat stole indie rock and roll and I was not okay with that.
Queuing to meet band members
Hours and hours were spent waiting on the side of pavements for that dude from that band to come out. The support act came out while you were waiting? May as well get a photo with them too.
The OC
I loved that show so much and you know what. I still happily every now and then tune in to one online. Ryan was a babe. And Sandy was basically the coolest guy ever. He was a surfing lawyer who hated the man! Oh the tears I shed when Marissa died.
Wearing the tightest brightly coloured skinny jeans with a band shirt
Fashion at its highest and most wonderful form.
Jessica Simpson and Nick Lachey
Is this chicken or is it chicken of the sea?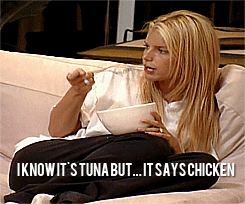 Snake. 
The ultimate mobile phone game.
NME Awards Tour
Mystery Jets, We Are Scientists, Arctic Monkeys and Maximo Park. What more do you want?
I feel like there's so much that I missed. Let me know!